EDI Connection Library Settings for Claims and Reports
Use the 'Secure File Transfer' type when setting up the EDI connection library.
Contact ZirMed for the latest Secure FTP connection settings.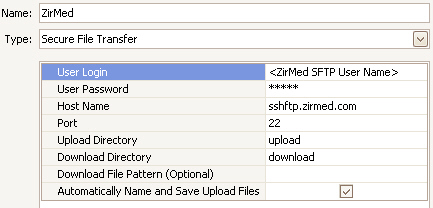 Contact ZirMed for the latest ANSI 837 settings.
Claim File Naming Convention
The claim file name must end with .CLP example Claims05012013.CLP -  Do not use additional '.' in the file name.
ANSI 837 (Claims) Submitter/Receiver Library Entry
<Client Account ID*> If you are a billing service or are otherwise utilizing ZirMed's parent/child account feature, you should send the Client Account ID of the CHILD account in this field.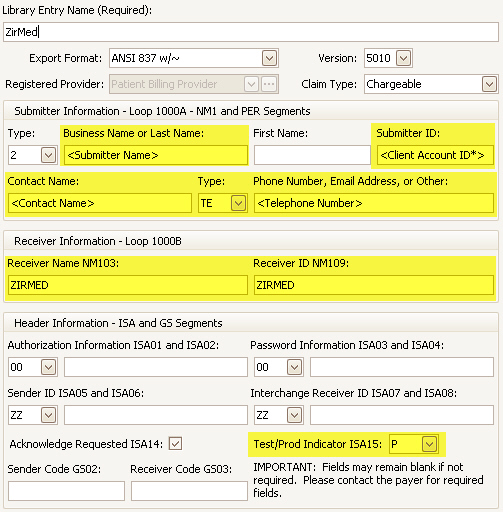 The important fields are the Authorization information in the ISA section.  Use the same login and password you use to access the ZirMed web site.  (Go to Tools > 'Program Set up' – Patient Eligibility for additional set up)
Eligibility Payer IDs
The ZirMed eligibility payer ID may be different than the claim submission payer ID.  If ZirMed's payer name matching feature is used for claim submission, the payer ID sent in the 837 is ignored.  Therefore, it is OK to enter the Eligibility Payer ID into EZClaim's payer library.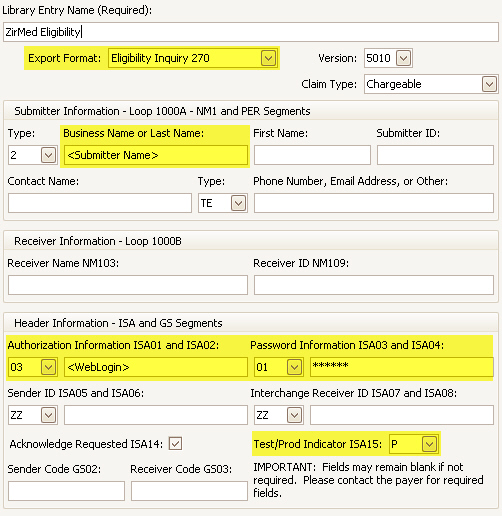 NOTE: ISA02 can be no longer than 10 digits to comply with ANSI standards